Covid Testing at Home in Los Angeles County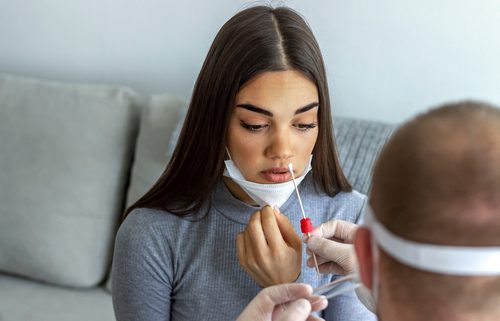 With Covid-19 cases spiking and government officials urging people to stay home, what should you do if you contract the virus? How can you get tested for the virus if you are trying to stay at home as much as possible?
Fortunately, there are ways you can get tested at home for Covid, so you do not have to go to the hospital or clinic to find out your results. And while you can order kits to test yourself at home, we do not recommend that course of action because it is difficult to ensure that you perform the test accurately.
Rather, we recommend having medical professionals come to your house and perform the test in the comfort of your home. In fact, this is easy to set up and the safest and most accurate option for Covid testing.
How to Get Tested for Covid-19 at Home:
Kinkaid Private Care provides at-home Covid-19 testing for patients throughout the Los Angeles metro area. If you live in the LA area and need a Covid test, receiving an at-home test is simple. Moreover, we can schedule same-day or next-day Covid testing appointments. Here's how it works:
First, one of our highly trained and experienced nurses comes to your home to perform the nasal PCR Covid test. The test only takes a few seconds and is painless.
Then, we send your test to a reputable lab in the Los Angeles area for processing. You will usually see your results within 24 hours.
Finally, we go over your test with you and discuss next steps if the result is positive.
Receiving At-Home Covid-19 Care:
If you receive a positive Covid test, we provide you with recommendations for next steps depending on your symptoms, age, medical conditions, and other factors. If you require care for your illness, Kinkaid can help you with just about anything you need, without you ever having to leave your home.
We highly recommend at-home care for patients with Covid-19, especially for those over the age of 65 or with pre-existing medical conditions. By receiving care at home, you ensure that you never come in contact with the germs of a doctor's office or hospital, and you allow yourself to recover in a stress-free environment.
Kinkaid's in-home Covid-19 care consists of the following:
Appropriate Medical Tests: Our team of nurses coordinates any medical tests you may need to help treat the virus, all of which are performed in the comfort of your home. Examples of these at-home medical tests include EKGs, chest x-rays, blood draws, and more.
Keeping You Comfortable: One of the primary goals of our at-home Covid care is to keep you as comfortable as possible while you recover. We can coordinate at-home medical services that help boost your health, such as IV vitamin therapy, IV electrolyte replacement, and more. We also provide homemade soups and juices if you would like.
Administering Medication: If necessary, we coordinate with your physician to ensure you receive the medication you need without having to leave your home. Our nurses are trained to administer medication in a safe and timely manner.
Keeping You Out of the Hospital: Our Covid-19 care team does everything it can to keep you out of the hospital, so you can recover in your stress-free home environment. That being said, if you do need to go to the hospital, we will help coordinate the logistics of that as well.
Get the At-Home Care You Need With Kinkaid:
If you or your loved one needs an at-home Covid-19 test or at-home care for the virus, please visit our Covid-19 page to see how we can help. Kinkaid Private Nursing Care offers premium in-home services to patients looking for the best and most intensive care on the market. We only take on a few clients at a time, so we always provide specialized care to meet the needs of each client.
For more information, please visit our homepage and learn about our values and the array of services we provide. These services include home detox throughout California, as well as in-home nursing care and the coordination of a variety of at-home medical services in the Los Angeles area.
OUR COVERAGE AREAS
We service patients in California. Our headquarter states:
https://kinkaidprivatecare.com/wp-content/uploads/2021/01/shutterstock_1871978284.jpg
334
500
Jennifer Bembry, RN
https://kinkaidprivatecare.com/wp-content/uploads/2023/07/kinkaid-logo.png
Jennifer Bembry, RN
2021-01-13 18:08:40
2021-01-13 18:08:40
Covid Testing at Home in Los Angeles County