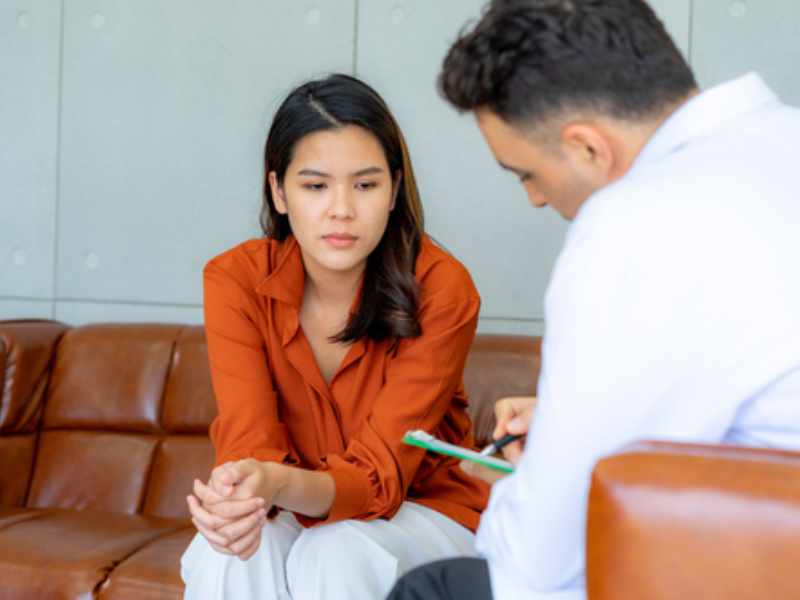 In Home Mental Health Services
Experiencing a mental health issue is a personal event. Feeling raw and vulnerable, the thought of getting into a car and visiting a psychiatrist's office may be too difficult. It is hard enough to struggle with unfamiliar symptoms that leave you feeling depleted or afraid, so leaving the security of your home can present a daunting obstacle that is hard to overcome.
When the impact of a mental health disorder creates a sense of emotional instability that prevents you from traveling to a mental health professional, why not get the psychiatric help you need without ever leaving your home?
Kinkaid Private Care offers premium mental health and psychiatric care within the comfort and safety of your familiar surroundings. Read on to learn more about how mental health home care works and how we can help you or your loved one.
What is Mental Health Home Care
Mental health home care, also known as psychiatric home care, refers to the care one receives for various psychiatric disorders from the comfort of their home. It is usually possible for patients to receive the same care they would receive at a hospital, treatment center, or doctor's office, but from home instead.
In fact, receiving mental health care at home can be more beneficial than receiving the same care at a treatment center because patients receive high-quality care, but without the stresses of having to leave home. And in most cases, the at-home care is of higher quality than the same care elsewhere. We outline the benefits of receiving our mental health care at home as opposed to a treatment facility later on this page.
Mental Health Home Care Services
During mental health home care, the psychiatric nurse provides medication management and coordinates therapy sessions, holistic therapies, and outside social services if indicated. You can also expect your care to consist of the following:
Psychiatric evaluations
Medication dispensing and monitoring
Psycho-educational coping skills
Transitional services for patients stepping down from residential care or hospitalization
Clinical case management and scheduling adjunctive services
Psychotherapy support
Family counseling and caregiver support
Crisis intervention
In Home Psychiatric Care
As mentioned above, most patients can receive high-quality mental health care without leaving their house. Kinkaid's nurses have decades of experience working with patients with a variety of mental health disorders, including, but not limited to:
Anxiety Spectrum Disorders
Examples of various anxiety disorders we treat at home include, but are not limited to:
Generalized Anxiety Disorder
Panic Disorder
Specific Phobias
Social Anxiety Disorder
Post-Traumatic Stress Disorder (PTSD)
Obsessive-Compulsive Disorder (OCD)
Depressive Disorders
Examples of various depressive disorders we treat at home include, but are not limited to:
Major Depressive Disorder
Postpartum Depression
Seasonal Affective Disorder (SAD)
Persistent Depressive Disorder (Dysthymia)
Premenstrual Dysphoric Disorder
Personality Disorders
Examples of various personality disorders we treat at home include, but are not limited to:
Borderline Personality Disorder
Avoidant Personality Disorder
Paranoid Personality Disorder
Narcissistic Personality Disorder
Histrionic Personality Disorder
Mood Disorders
Examples of various mood disorders we treat at home include, but are not limited to:
Bipolar I Disorder
Bipolar II Disorder
Cyclothymic Disorder
Unspecified Bipolar Disorder
If you or your loved one needs treatment for a mental health concern not listed above, please contact us, as we may still be able to help you.
Contact us for a FREE consultation today!
What Does Mental Health Home Care Look Like?
Kinkaid's team of experienced and highly trained nurses provides premium in-home care to all our patients. And while we customize our care to meet the unique needs of each patient, we prioritize the following aspects of our care for all patients to ensure you receive the benefits of our in-home mental health care:
Reducing Stress and Anxiety: Because our care is provided 100 percent at home, you never have to deal with the stress of traveling or with crowded hospitals or doctor's offices. Moreover, our nurses are trained to use your familiar surroundings to increase comfort and reduce anxiety even further.
Keeping Families Together: Having your loved ones readily available at home is beneficial while dealing with a mental health issue. By remaining at home, you never have to leave your family and can lean on them for support whenever necessary.
Improving Access to Mental Health Services: Our team of psychiatric nurses can treat you on a moment's notice from the comfort of your home whenever needed, instead of having to wait days or longer for an appointment at a facility or doctor's office.
Reducing the Need for Hospitalization: Our nurses are trained to monitor and stabilize patients at home, reducing the likelihood of needing to check into a hospital or facility.
Increasing Privacy: Not only do you receive premium care from our team of nurses, but you also experience a maximum level of privacy, as you will not have to check into a crowded hospital, doctor's office, or treatment center.
Individualized Care: While treatment centers may not have the resources to customize care for each patient, Kinkaid's care is one-on-one and customized to meet your exact needs.
Administering Medication Appropriately: Ensuring that our patients receive the medication they need and at the right time is crucial for their health and comfort. Because of this, our nurses are trained in administering medication safely and effectively.
Exceptional Treatment Adherence: With more attentive care provided, our psychiatric nurses can more effectively supervise care, resulting in enhanced treatment compliance and thus a better recovery outcome.
Providing Appropriate Support Services: In addition to the premium care our nurses provide, we coordinate a variety of at-home concierge services to increase your health and comfort and reduce stress and anxiety. We offer the following services (click on each service to learn more):
Excellent Communication with Patients and Families: Good communication is key for anything, especially for handling something as complicated as psychiatric care. We prioritize communication with our patients and their families to ensure everyone is on the same page and that our patients receive everything they need in a timely and effective manner.
Who Provides Mental Health Home Care?
Our care is provided by Kinkaid's team of in-home nurses with decades of experience in mental health care. Our nurses are trained to provide high-quality in-home care in a kind and professional manner, while also ensuring excellent communication with families.
Mental Health Home Care Coverage Areas
We service patients in California.
In-Home Mental Health Care Services
Our in-home nursing care services throughout the state of California including:
LOS ANGELES METRO AREA:
Beverly Hills
Bel Air
Brentwood
Westwood
Pacific Palisades
Santa Monica
Malibu
Holmby Hills
Cheviot Hills
Culver City
Beverly Glen
Beverlywood
ORANGE COUNTY:
Includes Costa Mesa
Newport Beach
Newport Coast
Huntington Beach
Irvine
Laguna Hills
Laguna Niguel
Laguna Beach
Mission Viejo
San Clemente
San Juan Capistrano
Yorba Linda
Chino Hills
Dana Point
SAN DIEGO METRO AREA:
San Diego
La Jolla
Eastlake
Hillcrest
Carlsbad
Oceanside
Coronado
Chula Vista
Del Mar
Escondido
BAY AREA
San Francisco
Daly City
Palo Alto
Mountain View
Oakland
Berkeley
San Rafael
Richmond
Walnut Creek
Alameda